FULL TEXT: Transcript of PNoy's News Conference on the Mamasapano, Maguindanao Incident
President Benigno Aquino III answered questions from media after delivering his speech about the encounter between members of the Philippine National Police-Special Action Force (PNP-SAF) and Moro rebels in Mamasapano, Maguindanao.
Reymund Tinaza (Bombo Radyo): Good evening, Mr. President. I am taking off my questions from the spirit of goodwill and for peace. Sir, it is not the first time that this so-called 'misencounter'—or however we call it—with supposed friendly forces, the MILF (Moro Islamic Liberation Front). Sir, was there any clear coordination with our counterparts in the MILF? If none, of if there was, how should we define 'coordination' to them, considering, as you have said, the 'element of surprise' against these terrorists?
PRESIDENT AQUINO: Reymund, siguro imbes na pag-usapan natin 'yung sa MILF na palagay ko lalabas doon sa Board of Inquiry, siguro dapat tukuyin muna natin 'yung mismong puwersa natin; na diumano, bagamat ilang beses nating pinagbilinan na 'yung tamang koordinasyon sa AFP (Armed Forces of Philippines) ay dapat nandoon, hindi nangyari. So hintayin na lang natin 'yung resulta doon sa Board of Inquiry para lang malaman ang buong katotohanan.

Mr. Tinaza: Okay. Sir, regardless of whether there was actual coordination, but as a human being and as Commander-in-Chief, how do you assess… Is it acceptable that while there was no coordination at all with our friendly forces, it is just right to open fire with our troops, considering those fatalities?
PRESIDENT AQUINO: Namomoblema akong sagutin 'yang tanong mong 'yan dahil wala pa akong facts. Aakusahan ko ang isang grupo na wala akong tangan na ebidensya. Kaya, sinasabi ko nga, hintayin natin ang resulta nitong Board of Inquiry. Matutukoy kung sino ang mga pumaslang dito sa ating mga troopers nang may katiyakan, naaayon sa proseso, para naman bago tayo mag-akusa ay mayroon tayong supisyenteng ebidensya.
Mr. Tinaza: Okay, sir. Last point, sir, can we in a way…
PRESIDENT AQUINO: Sandali lang, Reymund. Hindi naman… 'Yung… Katulad nito, ano, 'pag… Sabihin nating kung mayroon kayong forces na sila ang bumaril dito sa ating mga SAF (Special Action Force) troopers, ano 'yung konteksto? May nagsasabing 'yung misencounter masyado raw malapit na pareho silang kumikilos; baka hinahabol ng isa palayo doon sa nangyayaring aksyon; 'yung isa naman tumatakas doon sa mga engkuwentro; nagsalubong at nagkagulatan. Tama kaya 'yon? Hindi. Wala akong fact. Pero kung ganoon ang nangyari, nagkagulatan, pwede ba nating sabihin na… 'Di ba 'yung sa kasalanan sa Simbahang Katoliko 'yung intensyon at saka 'yung akto parehong masama e. Dito ba may intensyon tayong masasabing mapapatunayan? Mayroon ba talagang kautusan na 'pag mayroong dumating doon na hindi ninyo kagrupo pwede na ninyong barilin? Hindi natin pwedeng masabi sa ngayong panahon 'yan.

Mr. Tinaza: Sir, last point. Based on reports there are reports of robbery and dishonoring and other forms of atrocities to our already dead or injured SAF members. Is there any way that we could ask the MILF to explain and even return the cellphones and other belongings of those SAF members, which they got from them?
PRESIDENT AQUINO: 'Yung… Again, ano, ina-assume natin puro MILF ang tumira dito sa ating mga kapulisan; hindi pa natin nae-establish 'yon. So ang sigurado ako maaasahan natin 'yung MILF na tutulong magkaroon ng katarungan para dito sa mga troopers natin.
Mr. Tinaza: Thank you, sir.
Joyce Pañares (Manila Standard Today): Hi, sir. Sir, by now I'm sure you have already established… Who gave the go-signal for that mission?
PRESIDENT AQUINO: Well, 'yung 'who gave the go-signal,' ano?
Ms. Pañares: Yes, sir.
PRESIDENT AQUINO: If you remember… Sa speech ko, binanggit ko sa inyo 'yung napakaraming operations na 'yung warrant starts from 2002 against Marwan, okay—marami nang operations. Just for everybody to know, 'yung AFP actually had an operation against Marwan, Mawiyah, and Doctor Abu of the Abu Sayyaf. Doon na-neutralize si Doctor Abu; supposed to be injured si Mawiyah at si Marwan. May claims na—I'm sure you can research it—na suspected na namatay 'yung dalawa; obviously, hindi. This particular operation ng PNP 'yung… I was checking my notes, ano, pero sometime roughly about May of last year 'nung nagkaroon ng aim for actionable intelligence na tinutukoy kung nasaan specifically si Marwan at saka si Usman.
'Pag sinabing 'actionable intelligence…' Marami kasing intelligence 'sighted'—sighted dito, sighted diyan—e 'yung sighted dito at sighted diyan, kung wala kang puwersang makakadakip sa kanila, hindi actionable. Dito, pumirmi sa… Tulad 'nung operation ng AFP, pumirmi sa isang lugar sa Sulu; dito naman, pumirmi dito sa Mamasapano sa Maguindanao, so actionable. So 'yung go-ahead, tuloy-tuloy 'yan e, ano. Bago pa ako naupo sa puwesto, may mga operations against them. Dito, since 2010, all of the PNP, the AFP, and the NBI (National Bureau of Investigation) have had their own versions of operations.
This particular intelligence on Mamasapano, starting from May of last year, nandiyan na at ilang beses sinubukan pero na-abort for various reasons. Now, I'll give you one, for instance. Siguro third or fourth quarter last year, pumasok 'yung SAF, sinubukang i-apprehend itong dalawa. Nagkaroon ng harassment attack on a detachment of the AFP, nagkaroon ng sagutan, palitan ng putok between the BIFF (Bangsamoro Islamic Freedom Fighters) and the AFP at nahinto sila. 'Nung humupa, tumigil, naghiwalay 'yung magkabilang puwersa; umabante ulit 'yung SAF, tapos diumano, pinutukan sila at in-abort nila 'yung mission.
Bakit nila in-abort? Dahil inaaalala nila mabulabog itong si Marwan at si Usman at tumakbo na naman or umpisa na naman tayo sa hanapan. At hindi 'yon 'yung one-time lang last year na sinubukang pasukin itong lugar na ito. So 'yung go-ahead, 'di ba, trabaho nila e. May warrant of arrest. The court orders all law enforcement authorities to serve that particular warrant, and again, from 2002. So ongoing na ito by all of these branches of our security sector.
Ms. Pañares: But on that Saturday evening that they decided they would go to Mamasapano and, you know, act on this what you call 'actionable intel,' so the buck stops with the SAF commander? Because there are also reports that—
PRESIDENT AQUINO: Tactically, hindi ba… Okay, one, bakit SAF? 'Yung… Hindi naman cellphone snatcher 'yung hahabulin natin dito, ano. Si Usman is reported to have a 15- to 20-member security detail made up mostly of his relatives. You are providing him security in this particular area. Maraming other forces diyan between the BIFF, the MILF, and also a private armed group. Can I just remind everybody—I was just checking through the notes—in the lead-up to the elections of 2013, naalala ninyo mayroong PNP rin na regional… The regional director or his forces were to serve a warrant on a Maguindanao massacre suspect. Nagkaroon ng firefight at nagkaroon ng—parang na-box in rin sila at dumating nga 'yung army para tulungan silang makalikas, okay. So dito, 'yung sa go-ahead, parang matagal nang may go-ahead. Siguro 'yung reverse, 'pag alam niyong nandiyan, may kakayahan kayong arestuhin, hindi ninyo inaresto… Mayroong konsepto sa batas 'nonfeasance' e, hindi mo ginawa 'yung tungkulin mo. So matagal nang tuloy-tuloy na hinahanap ng gobyerno natin itong mga teroristang ito.
Ms. Pañares: Sir, maybe just two long questions.
PRESIDENT AQUINO: Two long questions, okay.
Ms. Pañares: Sir, the first one. So why was Secretary (Mar) Roxas and General (Leonardo) Espina left in the dark insofar as this operation is concerned? And there are also reports that PAOCC (Presidential Anti-Organized Crime Commission) under Secretary (Paquito) Ochoa parang had a hand in preparing for or planning this operation and General (Alan) Purisima who is supposed to be on leave. What is your…
PRESIDENT AQUINO: 'Yung… We'll look into that, ano, kung bakit hindi alam ni Secretary Roxas or Deputy Director General Espina—that will be borne out in the Board of Inquiry. Although—and I was conferring with Secretary Roxas and he will confirm this—there were points before 'nung mga na-abort that we had discussed this particular operation. Ngayon 'yung sa dami ng… Paano ba? Paano ba ipapaliwanag 'yon? Sa dami ng version nito. Kasi hindi naman 'sinubukan ngayon, abort, tapos panibagong operation.' Talagang parang nire-refine 'yung kanilang plano, starting from roughly around May last year, okay. Ngayon… Teka, first question, bakit hindi sila na-inform?
Ms. Pañares: Yes, sir.
PRESIDENT AQUINO: Second question was… Sorry?
Ms. Pañares: There were reports that PAOCC and General Purisima, sir—
PRESIDENT AQUINO: 'Yung PAOCC that's news to me. I don't think PAOCC was involved in this, ano. The intelligence that was utilized starting from, again, May last year was generated by the PNP. I think the unit is called the IG. I guess that means 'Intelligence Group,' okay. 'Yung was General Purisima involved? He was Chief PNP and he was the one reporting to me starting from roughly around May of last year. And 'yung dito naman, I was talking directly to the SAF director, and… 'Yung, if at all, baka 'yung jargon tinutulungan ako ni General Purisima to understand it. But he was involved 'yung up to the point in time, directly, that he was ordered suspended by the Ombudsman. Tapos after that, if at all, 'yung siya ang very knowledgeable about the whole thing; ipinapaliwanag sa akin 'yung intricacies of what the plan being presented to be was.
Ms. Pañares: Sir, for my last question, when will the National Day of Mourning be declared?
PRESIDENT AQUINO: Friday.
Ms. Pañares: Friday. And also, sir, parang what concrete actions would you like to see from the MILF, you know, just to perhaps show sincerity amid this cloud of doubt that was cast over the peace process? And… Kasi like—just to push what Reymund earlier said—parang the photos of the carnage that came out, you know, the policemen were brutally slaughtered. So parang people are also asking for accountability. So what can we, as the government, ask or demand from the MILF that they do in return?
PRESIDENT AQUINO: Okay, 'yung basic, 'yung pinaka-minimum that they will… 'Yung they have areas under their control in this particular area of Maguindanao. They will step aside to make the operations against Usman and anybody else who will shield him be less complicated. Wala na 'yung… Navi-visualize ba ninyo na 'iwas ka dito para walang misencounter'? Hindi, tatabi, minimum 'yon. Tapos 'yung I expect—but they will have to discuss this amongst themselves—ano ba 'yung extent that they will help us? Recovery of the firearms; identification of the people who actually did the acts; recovery of personal effects and things like that, I think, will be reasonable to expect from them. But at this point in time, I am very, very confident that they will… They will and they are parang studying exactly how to demonstrate their sincerity in this peace process.
Ms. Pañares: Thank you.
PRESIDENT AQUINO: Thank you.
Lei Alviz (GMA-7): Good evening, sir. Sir, categorical answer lang po siguro. May go-signal po ba ninyo 'yung operasyon po o wala?
PRESIDENT AQUINO: "Sir, can we proceed with the mission?" I don't think I was ever asked that question. At the same token, parang it's a rhetorical question, 'di ba, Lei? 'Yung 'pwede ho ba naming hulihin itong pinapahuli ng korte?' Pwede ko bang sagutin na 'hindi'
Ms. Alviz: So hindi po, sir, kailangan po ng go-signal po ng Pangulo?
PRESIDENT AQUINO: If they will have to wait for me with every action, then they will have to contend with all the other things that are occupying my attention, kailan kaya natin mahuhuli 'yung kriminal?
Ms. Alviz: Okay. Sir, 'yung fact po na two international terrorists were in the MILF territory, what does this imply po doon sa sincerity po ng MILF?
PRESIDENT AQUINO: 'Pag tiningnan niyo 'yung specific encampments, 'yung separated sila from the BIFF, separate sila from MILF, separate sila from the PAG (private armed group). Can we technically say they were inside an MILF camp? The data shown to me by both the AFP and the PNP say they were not in an MILF camp. We can't even say that they were in BIFF camp. Pero can we even say that they were in the PAG area? They were in a separate area that was closed by to all of these other encampments.
Ms. Alviz: Sir, how can we strike a balance between finding justice for our falling police officers and going forward with the peace process?
PRESIDENT AQUINO: Well, ilang beses nang nagpakita naman ng, ano e, ang MILF na especially—and there are mechanisms already in place—na 'pag mayroong law enforcement operations tumatabi sila or nagko-cooperate pa. Cinite (cite) ko 'yung kanina, 'yung pagre-rescue 'nung kidnap victim, and there are others. Now, 'yung how do we strike a balance? Mayroong ano e… Mayroong—paano ba tawag doon—goalposts, milestones on both sides na kailangang ipakita as we advance, at lahat ito nakalagay doon sa ating framework agreements nga. Tapos lalagyan ng more and more na detalye, 'yung Bangsamoro Transition Authority, 'yung budget nito na hinanda na, inaprubahan ng Kongreso, and so on and so forth.
So 'yung dito, 'pag sinasabi kong ipapakita 'yung sincerity, they can operate in that area relatively freely. They have access to informants that we may not have access to at this point in time. They have tasked already their own commission to study and determine who is at fault, and we can expect that there will be that much more cooperation from them when we file the appropriate charges, once we have developed the necessary evidence. Madali-dali kasing ilagay na kung sino-sinong pangalan doon tapos wala tayong pruweba; tapos naabsuwelto na lahat ito, walang point 'non; nagdrama lang tayo. Ang habol natin matukoy 'yung talagang may mga kasalanan at mapanagot 'yung totoong may kasalanan.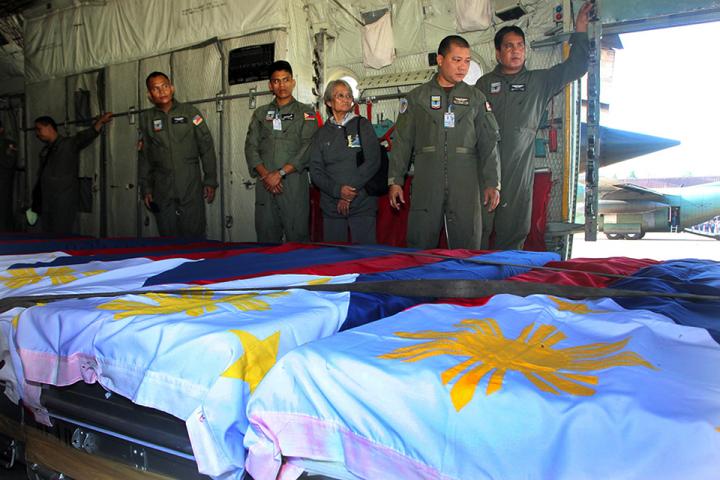 A relative of one of the 44 slain PNP-SAF commandos stands beside the officer's coffin inside a C-130 military plane at Awang Airport in Maguindanao on Thursday, January 29. Remains of the 42 police commandos killed in the January 25 Mamasapano encounter were flown to Villamor Air Base where arrival honors were accorded to the fallen men this morning. Two other slain officers were earlier laid to rest in Zamboanga City in accordance to Islamic rites. Mark Navales