Smartmatic faces raps for electoral sabotage
Bad news followed good on Thursday for Smartmatic-Total Information Management (TIM).
The company bagged the deal to provide the Commission on Elections (Comelec) 23,000 optical mark readers (OMRs) to be used in next year's polls but it was also slapped a complaint for allegedly sabotaging the 2013 mid-term elections.
The complaint was filed by the group headed by former Comelec commissioner Gus Lagman.
The other complainants were Leo Querubin, Maria Corazon Akol, Glenn Chong, Temario Rivera, and Ernesto del Rosario, all members of the Automated Election System (AES) Watch.
They accused Smartmatic officials Cesar Flores; Albert Castro Rico and Marlon Garcia of violating Republic Act 9369, or the Poll Automation Law for allegedly changing the source code of the Precinct Count Optical Scan (PCOS) machines just hours after voting closed on May 13, 2013.
"Smartmatic officials/personnel inexplicably changed the scripts of the un-reviewed source code at or about the time of the consolidation/canvassing during the said elections," they said in their seven-page complaint.
"This action on the part of Smart¬matic as well as the Election Manage¬ment System constitutes the crime of electoral sabotage," they added.
The source code is defined as the human readable instructions that dictate what the automated election system will do.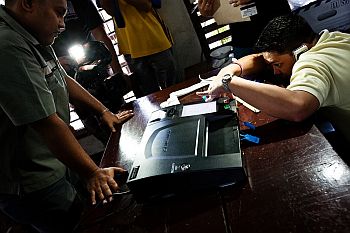 The petitioners said the incident happened at the Command Center of the Parish Pastoral Council for Responsible Voting (PPCRV) about two hours after voting closed when about 12 million votes for the senatorial elections have already been received in the PPCRV transparency server.
They said the transparency server "was rendered meaningless when its operation or functioning was disturbed or interfered with Albert Castro Rico and Marlon Garcia of Smartmatic."
Section 28 of the RA 9369 provides that among the prohibited acts include "interfering with, impeding, absconding for purpose of gain, preventing the installation or use of computer counting devices and the processing, storage, generation and transmission of election results, data or information".
Electoral sabotage carries a penalty of life imprisonment.
Also on Thursday, the Comelec said it will issue a notice of award to Smartmatic-TIM for the lease of 23,000 new OMR units worth P1.7 billion.
Smartmatic was disqualified from the project for submitting non-responsive financial proposals and for its failure to meet the required technical specifications.
However, the Comelec en banc reversed the ruling of the bids and awards committee disqualifying the poll service provider.
The Comelec is set to open on Saturday bids for the repair and refurbishment of 81,000 PCOS machines which were used in the 2010 and 2013 elections. - PNA/J Arias, The Manila Times