DIGITAL LINE - This is a line that mysteriously appears on the ballot image (selfie of your physical ballot taken by the PCOS at the time of scanning). It is called digital line because it appears only on the scanned digital copy stored on the CF card and not on the physical ballot.
EFFECT(S) - Whenever the digital line appears, it traverses the whole ballot image from top to bottom. Whenever it falls on the ovals of candidates, the PCOS counts them as votes (even if not voted for by the voter) whenever the thickness of the digital line meets the threshold of the oval shade resulting in DAGDAG. Whenever it wrongly added more votes to positions with a maximum number of choices (example: 1 Representative, 1 Governor, 12 Senators), it results in over vote and nullification of the otherwise valid vote of the voter resulting in BAWAS.
In Clustered Precinct 193, Barangay Talima, Lapu-Lapu City, Cebu, out of 14,563 shades or votes, 3,801 shades or votes were wrongfully counted by the PCOS. This constitutes 26.1% of the total. How sure are we then that those sitting in public office today where truly elected by the majority given proof that those hyper expensive PCOS indeed added and subtracted the vote count?
FIRST DISCOVERY - Originally discovered by the DOST Technical Evaluation Committee and made public at the hearing of the JCOC on 10 December 2013. The COMELEC promised to render a report on the issue at that hearing.
FIRST ACTUAL PROOF OF BALLOT IMAGE WITH DIGITAL LINE - At the hearing of the JCOC on 18 September 2014, after I (Glenn Chong) was initially prevented to show proof using the Senate's projector screen, I was allowed finally to show how the digital line actually affected the vote count in the 2013 elections. It was the first time the public at large was able to see what the COMELEC and SMARTMATIC had been keeping a tight lid all this time.
UPDATE - No official report from COMELEC and SMARTMATIC up to this time on the cause and effect of this phenomenon. It has been more than 15 months that they kept dribbling the issue hoping that it will just go away or election fever sets in making everybody forget that there is more than enough reason to worry that our elections in 2016 will be nothing but a farce.
WE HAVE ENOUGH EVIDENCE TO SHOW THAT COMELEC HAS BEEN TRYING TO HIDE THIS DIGITAL LINE PROBLEM FROM THE JOINT CONGRESSIONAL OVERSIGHT COMMITTEE AND THE PUBLIC. COMELEC KEEPS ON BUYING TIME BY PROMISING TO RENDER THEIR REPORT FROM ONE HEARING TO THE NEXT. THE JCOC SHOULD STOP THIS CHARADE ONCE AND FOR ALL. WE ARE READY TO POUND ON COMELEC WHEN THEIR REPORT COMES UP. —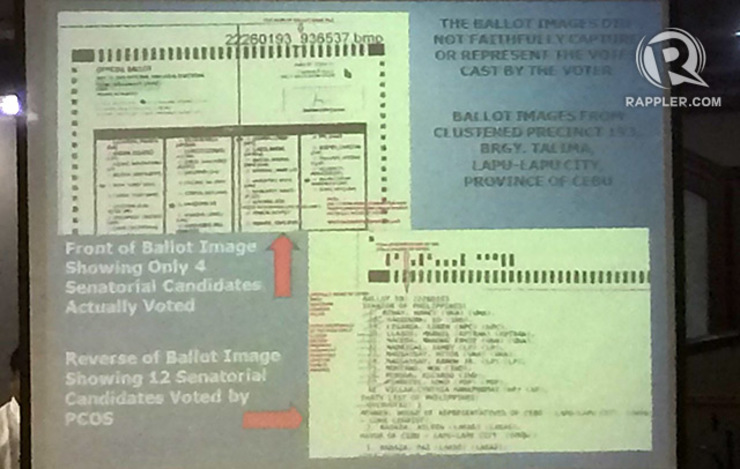 WRONG PCOS COUNT. Atty. Glenn Chong presents evidence of a 'problematic' PCOS count, caused by a 'digital line', in Clustered Precinct No. 193, Bgy. Talima, Lapu-Lapu City, Cebu.
Michael Bueza/Rappler