While others have resorted to lying under oath just to hide their US citizenship when running for elected office, claiming they never were American citizens and later getting disqualified for their false claims, they just conveniently change the statements they've made under oath and perjure themselves before the public.
But in this country of 'selective justice' they openly mock the law and the Constitution, the new normal in a country now being reduced to merely a banana republic.
Macmillan English Dictionary defines "banana republic" as an insulting term for a tropical country with a weak economy, a dishonest or cruel government and public services that do not work.
BI DOCUMENT SHOWS POE HID BEING AN ADOPTED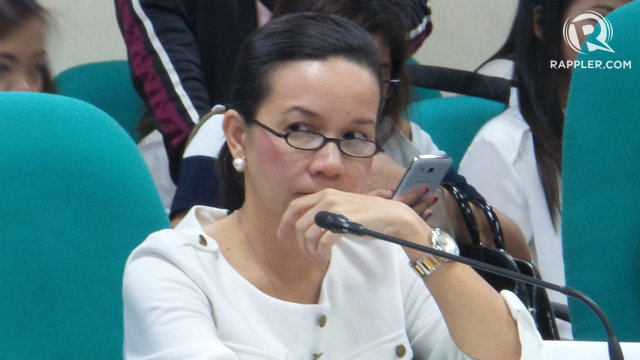 CLAIMED BEING NATURALLY BORN TO FPJ, ROCES
Potential presidential bet neophyte Sen. Grace Poe appears to have misrepresented her credentials in official documents submitted to support her appeal to regain Filipino citizenship in 2006.
A document attached to the case filed by Rizalito David before the Senate Electoral Tribunal (SET) revealed Poe, who admits not knowing who her actual biological parents are, declared herself as "naturally born" to her adoptive parents, celebrity couple Fernando Poe Jr. (popularly known as FPJ) and Susan Roces.
The document obtained from the Bureau of Immigration (BI), and signed by Poe, stated her misleading claim that she is "a former natural born Filipino citizen, born on September 3, 1968 at Iloilo City to Ronald Allan Kelley Poe (FPJ's real name) and Jesusa Sonora Poe (Roces)."
"How can Mrs. Llamanzares make herself appear to be incorruptible if it is clear that she is caught lying to have her Filipino status back, whereas in the first place she isn't a naturally born Filipino? Is lying not corruption? We all know that dishonesty is a sin to human laws as well as to God," David, who seeks to depose Poe
in her seat in the Senate, told reporters in a weekly media forum in Quezon City.
David, who ran for the presidency in 2010 and for the Senate in 2013 under Catholic-oriented Kapatiran Party, solely filed the disqualification case against Poe before the SET last week allegedly on constitutional grounds with him claiming that no political group or individual or even his own party backed him.
"It is unconstitutional for Mrs. Llamanzares (Poe) to be a senator, even as chairman of the (Movie and Television Review and Classifications Board), because she is not qualified to hold such posts primarily because she is not Filipino. What more for the presidency that she seemingly aspires?" David added.
The current debate on the qualification of Poe revolves around her being a foundling and without anybody surfacing to claim being her parent, there is no clear-cut law establishing her claim of being a natural born citizen that is, however, a requirement for those assuming a government post.
Republic Act 9225 or the "Citizenship Retention and Re-acquisition Act" cannot be applicable to Poe as she is not a natural born citizen, thus, "her current citizenship remains void," former Senator Francisco 'Kit' Tatad said.
Tatad also added that her previous renouncement of her American citizenship makes her a "stateless person as of the moment".
Meanwhile, despite Poe's camp depending her contested belief that she has been residing in the Philippines since 2005, it is clear that she has been using her American passport until 2009 which means that she recognized her American citizenship up to that period.
"If she is sincerely a Filipino citizen, then she must have used a Filipino passport," David said.
Poe's travel records also manifests an 'XXX' mark on her passport in the 25 trips she made from 2010 to 2013.
Former Negros Oriental Rep. Jing Paras, who was a staunch supporter of FPJ's 2004 presidential bid, said Poe obtaining American citizenship in 2001 makes her an "invalid" presidential or vice presidential bet come the October deadline for the filing of certificates of candidacy (CoC) before the Commission on Elections (Comelec).
"How can we trust someone whose being Filipino is but presumptive, which, in the first place, does not make you a Filipino citizen legally, and has abjured and renounced it when she took her oath of allegiance with the United States? She has already renounced us once, that is why we cannot genuinely trust her political ambitions," Paras said. - Full story on Tribune