Graph and image showing saturation point "in Australia, Asia and Sumatran Trench"

.
X1 CLASS SOLAR FLARE: Behemoth sunspot AR2192 has unleashed an
X1-class
solar flare. NASA's Solar Dynamics Observatory recorded the blast in this extreme UV
image of the sun
on Oct. 19th (0500 UT):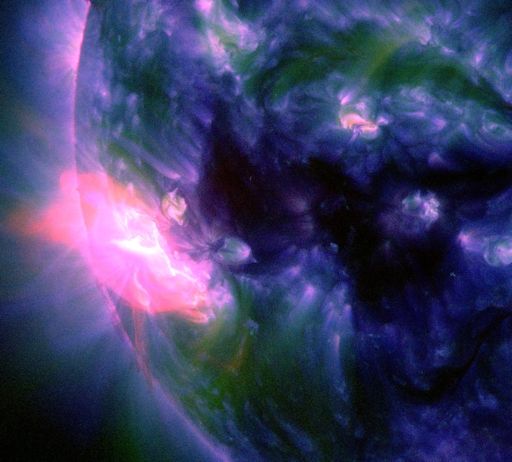 A pulse of ultraviolet and X-radiation from the flare caused a brief but strong HF radio blackout on the dayside of Earth, mainly over Asia and Australia.
BP Earthwatch presented the graph on top of this page which according to him indicates that the saturation point is Australia, Asia and Sumatran Trench. It has also been suggested that under this situation the Pacific Ring of Fire should be under elevated quake watch.
Following is a world map of M-4.0 earthquakes or higher during the last 24 hours from emsc-csem. It interestingly shows a magnitude 5.1 earthquake near 14.22 N; 124.64 E near Catanduanes, PH occurring at 14-10-19 18:14:30 UTC and another magnitude 4.5 at 5.00 N; 127.53 E near Davao, PH occurring at 10:29:30.3 UTC.
But, does solar activity really cause earthquakes?
A study was recently published in the journal Geophysical Research Letters. The research was conducted by Jeffrey Love with the USGS and Jeremy Thomas from Northwest Research Associates. The earthquake data were from the USGS, the sunspot data were from NOAA, the solar wind data were from NASA, and the geomagnetic data were from the British Geological Survey and Geoscience Australia.
"This research was conducted to advance our understanding of natural science and to test how the Sun affects Earth, ultimately helping protect the safety of our communities," said USGS research geophysicist Jeffrey Love. "Even though we did not find a significant correlation between space measurements and earthquakes, we recognize that the Sun affects Earth in other ways. The USGS is dedicated to studying these natural phenomena, some of which are hazardous for a modern and technologically dependent society."
"Of course it is always conceivable that some new and unexpected discovery will be made in the future, but it is also essential that we objectively evaluate the data and information that we have available now," continued Love. "Just because one might think that a pattern exists does not mean that one actually exists. We need clear evidence to be convinced."